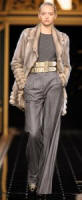 Grey is used in all its subtle nuances as a monochromatic colour scheme. Gradual tone changes meant designers played with every tone and shade of hue from deepest charcoal to steely blue to metallic to ice grey white.
Neat understated shapes in steel greys were a mainstay at Bottega Veneta. Max Mara as ever displayed understated good taste and also persisted with a very muted fall fashion palette of greys, charcoals and black. This look is closely aligned to that of stealth wealth and understated sharp and smart suits.
Easily update any look with grey touches by the addition of metallic silver toned or trimmed fashion accessories or flattering adaptable soft grey sheer tights. Or opt for lacy or thicker ribbed charcoal tights as you layer your looks this fall. This look easily works well for those tied to the city.