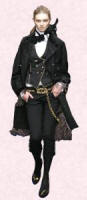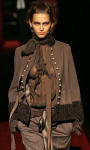 Military fashion has had designers working through every uniform era in the archives. This year Dolce and Gabbana highlighted Napoleonic styled jackets and coats with high stand collars. Ralph Lauren continues to design gold bordered military influenced garments and so does the high street. Great coats are a staple of deep winter fashion and buttons reinforce the military look whether small or large.
Whatever fashionistas say this look refuses to bow out gracefully as it keeps morphing into a new variation.
Sophie Dahl and Jade Jagger have both been seen wearing Napoleonic style dark jacket coats by Ralph Lauren. These jackets are heavily embellished with gold ornamentation outlining the garment borders. They are so embellished they are like fabric inset with gold jewellery. Teamed with jeans they add glamour and cover up a skimpier top.