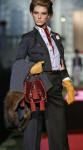 Masculine tailoring and a lean suit with lean narrower trousers could be one take on new fashion. Take two could be wide trousers and a slim line jacket. This takes adoption of menswear to new heights.
Topshop have really got the mannish look off very well.
Fashion designer Paul Smith chose to show items of male manner borrowed from the boyfriend when he found females often selected male garb they so coveted his brand items.